このコーナーでは、英語で書かれた星座占いや手相占いをご紹介します。日本では血液型占いが人気ですが、英語圏では血液型占いは一般的ではありません。星座占いは西洋が本場ということもあって、日本と同じかそれ以上の人気があります。
ここには和訳を載せていないので、辞書を片手に解読してみてください。占い結果は突っ込みどころも満載ですが、面白いです。
ARIES おひつじ座(22 March - 20 April)
Your best qualities…clever / lively
Your worst qualities…selfish / rude
Best qualities in a partner…friendly / modern
Your appearance…medium height / square face / long nose
TAURUS おうし座(21 April - 21 May)
Your best qualities…patient / organized
Your worst qualities…lazy / selfish
Best qualities in a partner…kind / calm
Your appearance…short / beautiful eyes / thick hair
GEMINI ふたご座(22 May - 22 June)
Your best qualities…intelligent / friendly
Your worst qualities…nervous / dishonest
Best qualities in a partner…optimistic / generous
Your appearance…tall / intelligent face / small mouth
CANCER かに座(23 June - 23 July)
Your best qualities…careful / sensitive
Your worst qualities…nervous / rude
Best qualities in a partner…patient / kind
Your appearance…round face / small nose / nice eyes
LEO しし座 (24 July - 23 August)
Your best qualities…imaginative / optimistic
Your worst qualities…bossy / selfish
Best qualities in a partner…clever / lively
Your appearance…square face / generous mouth / attractive eyes
VIRGO おとめ座(24 August - 23 September)
Your best qualities…patient / friendly
Your worst qualities…nervous / unimaginative
Best qualities in a partner…imaginative / careful
Your appearance…medium height / pleasant face / kind eyes
LIBRA てんびん座(24 September - 23 October)
Your best qualities…friendly / warm
Your worst qualities…lazy / disorganized
Best qualities in a partner…optimistic / honest
Your appearance…beautiful hair / long fingers / calm eyes
SCORPIO さそり座(24 October - 22 November)
Your best qualities…imaginative / confident
Your worst qualities…jealous / impatient
Best qualities in a partner…patient / careful
Your appearance…dark eyes / thick hair / interesting face
SAGITTARIUS いて座(23 November - 22 December)
Your best qualities…intelligent / optimistic
Your worst qualities…rude / arrogant
Best qualities in a partner…friendly / warm
Your appearance…tall / curly, fair hair / straight nose
CAPRICORN やぎ座 (23 December - 19 January)
Your best qualities…patient / honest
Your worst qualities…pessimistic / unimaginative
Best qualities in a partner…imaginative / confident
Your appearance…small / slim / serious face
AQUARIUS みずがめ座 (20 January - 19 February)
Your best qualities…friendly / generous
Your worst qualities…impatient / difficult
Best qualities in a partner…friendly / warm
Your appearance…good-looking / quite tall / fair hair
PISCES うお座(20 February - 21 March)
Your best qualities…sensitive / thoughtful
Your worst qualities…over-sensitive / disorganized
Best qualities in a partner…kind / sensitive
Your appearance…medium-height / round eyes / kind face
※この占いの文章は、Susan Kay and The Lake School of Englishから一部引用させていただいています。
英語で手相占いを楽しむ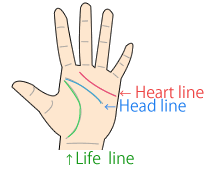 Heart Line…This line describes one's emotions and feelings. The longer it is, the more important relationships are to that person.
Head Line…This line describes how a person thinks. A person with a deep Head Line is clever and talkative. Those with a faint Head Line are often messy, but very creative.
Life Line…A person with a deep Life Line is energetic and competitive. If a person has a faint line, he or she is more of a thinker than a doer.
手のイラスト素材はフリー素材の来夢来人様のものを使用させていただいています。(※線は管理人が引きました)
英語で木精占いを楽しむ
 英語サイトwowzone.com−What Tree Did You Fall From?では、ケルト民族の守護樹占いをベースとした、「木精占い」を読むことができます。
 あなたの誕生日に関連する木は何なのか、ぜひチェックしてみてください。

---